SBM has announced that the first cultural event to take place in the newly renovated Place du Casino will be held this weekend, featuring a concert by Cecilia Bartoli and the Musicians of the Prince.
One of the main reasons for flattening the famous Casino Square was so the Société des Bains de Mer Group (SBM) could host various cultural events in Monte-Carlo, such as the Celine Dion concert that was scheduled for July but cancelled due to Covid.
Now, three months after the square's inauguration, SBM and the Monte-Carlo Opera, under the direction of Gianluca Capuano, are organising a night of music starring world-famous mezzo-soprano opera singer and recitalist Cecilia Bartoli and the Musicians of the Prince. 
The concert is being held on Saturday 19th September from 7.30pm and is a chance to gather together with friends and family for a night of beautiful music in an amazing setting, with the knowledge that all health regulations will be in place to ensure the public is safe.  
"It is a pleasure and an honour for us to receive Cecilia Bartoli and Les Musiciens du Prince on 19th September," said Jean-Luc Biamonti, CEO of SBM, during a press conference on Monday. "We could not hope for a more beautiful cultural event for the new Place du Casino, whose open and flexible configuration now allows us to host such public events."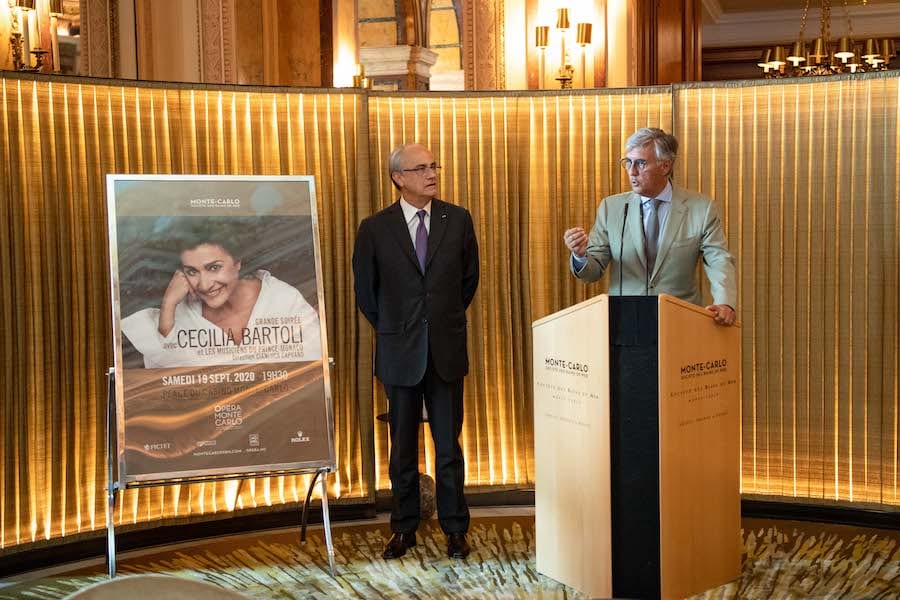 The architecture of the Place du Casino was notably designed for the organisation of events such as this, with a flattened shape, total modularity and the legendary Monte-Carlo Casino as a backdrop. Add the fact that it is an outdoor setting, making it more friendly to the conditions imposed by the health situation, and the night is sure to be magic.
Jean-Louis Grinda, Director of the Monte-Carlo Opera, also expressed his delight at having Ms Bartoli perform in Monaco ahead of her officially taking on his position in two years' time. "For the Monte-Carlo Opera, it is a wink and a joy to showcase the talent of Cecilia Bartoli, who will assume her direction from January 2023," he said.
 The concert will be the grand kick-off to a new season of the Opera, which begins on 21st October 2020.
Related stories:
Princely family inaugurates new Casino Square
Bartoli becomes first female director of Monte-Carlo Opera