The monumental work 'The Messenger' by Ossip Zadkine has taken up residency in the forecourt of the Oceanographic Museum of Monaco.
Inaugurated by Prince Albert II of Monaco on Thursday 7th November, the sculpture created by cubist artist Ossip Zadkine (1890 -1967) was donated to the Oceanographic Institute by the Broere Charitable Foundation.
The Broere Foundation has been a member of the Association of Friends of the Museum since 2013 and Cornelis Broere is, through his foundation, a generous patron of the Oceanographic Institute. It contributes to the influence of the institute's activities, notably the 'Great Medals of Albert I', which each year award the most eminent players in the science and mediation of the ocean.
This year's winners were Ban Ki Moon, Lisa A. Levin and Violaine Pellichero.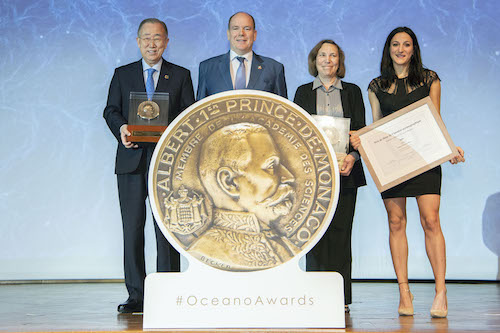 The Broere Charitable Foundation acquired the monumental sculpture by Ossip Zadkine in 2014. Cornelis Broere offered to entrust it to the Oceanographic Institute for integration into the public space near the Oceanographic Museum, honouring the initial desire of its founder, Prince Albert I: "To unite in the same brilliance the two leading forces of civilization: Art and Science".
"This gift from the Broere family marks their thanks and gratitude for the hospitality shown by the Principality of Monaco, as well as for its noble and exemplary efforts in safeguarding the oceans."
Top photo: Prince Albert II of Monaco and Cornelis Broereunveiling unveiling the monumental work © M Dagnino – Musée Océanographique