It was a heart-wrenching Monaco Grand Prix for Charles Leclerc, who says his last-minute withdrawal from competition was "difficult to take, especially at home".
The Monegasque driver has never seen a chequered flag in either an F1 or F2 race around the streets of Monaco, but after taking pole position in qualifying on Saturday, the 2021 Monaco Grand Prix looked to be his most hopeful chance yet.
While pole position in the Principality does not always lead to victory, it is almost impossible to overtake on the narrow street circuit and everyone was looking forward to a nail-biting finale.
And Charles fought hard for his pole position at the weekend, so hard that he crashed out on a barrier before setting the quickest time.
"Mixed feelings today," said Leclerc after the race. "On the one hand, being on pole here is amazing. I was quite happy with my fastest lap in Q3. The first sector wasn't ideal, but in the second and third, I put it together. I knew I could do better but I pushed too hard on my final lap trying to improve. Unfortunately, I hit the wall and now all we can do is keep our fingers crossed and hope that the damage won't result in a penalty. Whatever the outcome, I will give my all tomorrow. It feels great to be at home and to see all the fans around the track."
With strict Monaco entry rules and travel restrictions still in place, there was notably a smaller number of racing fans at this year's event. But the support for Leclerc was palpable, with a sea of red and white flags waved from windows, and even young Prince Jacques and Princess Gabriella enthusiastically showing their support for the first Monegasque to take pole position in Monaco.
But it wasn't meant to be. About 20 minutes before the race was scheduled to start at 3pm on Sunday, Ferrari issued the bad news home fans were dreading.
"Charles will not start the race due to an issue with the left driveshaft which is impossible to fix in time," Ferrari said in a statement.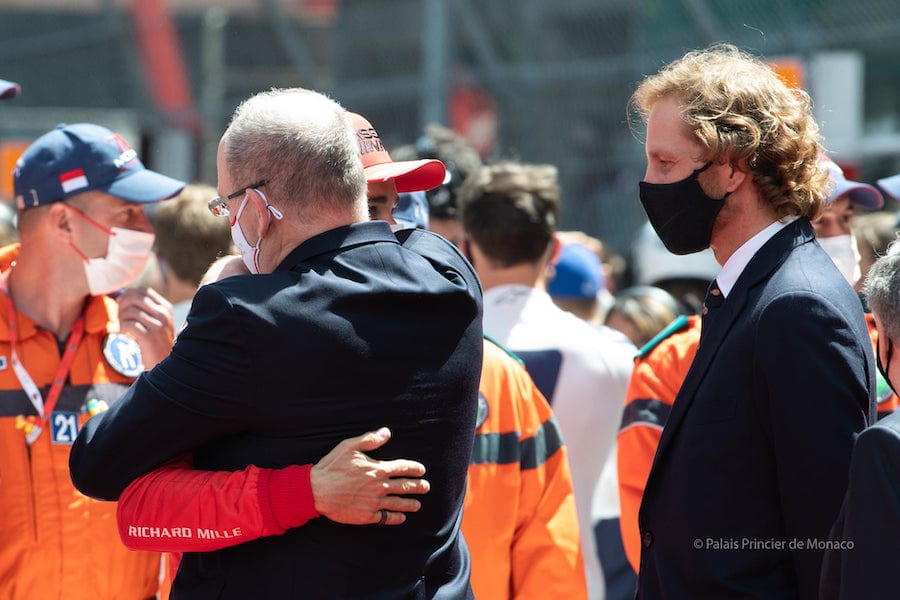 After receiving a consoling hug from Prince Albert, Leclerc could only watch on as his team mate Carlos Sainz finished second to claim his first podium finish in red, the team's 774th and 54th in Monaco.
"It was a tough one today. I really felt for the whole team," said Leclerc on Sunday. "After what happened in qualifying, the mechanics did an incredible job and gave absolutely everything to get me back on track for the race. I was really looking forward to finally fighting for the win for us here. Unfortunately, it was not meant to be.
"Not starting the race was difficult to take, especially at home. I was emotional in the car when I realised that there was something wrong. We still have to investigate what exactly was the issue. Overall, it was a good weekend for us though. Carlos was strong and consistent and I am happy for him and the whole team for scoring his first podium for Scuderia Ferrari. After a difficult year in 2020, this was a great reward for everyone, both at the track and back home in Maranello, and the team fully deserves it."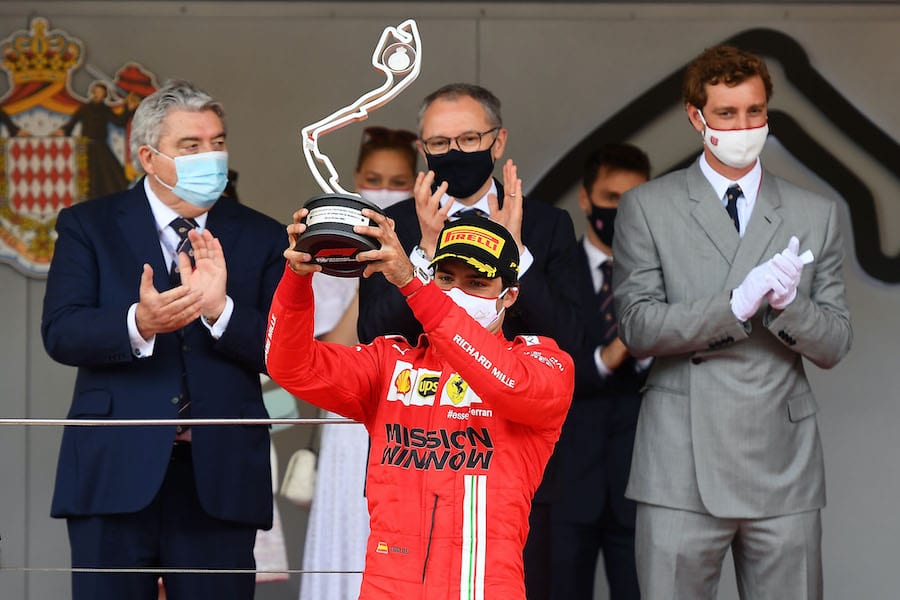 Red Bull's Max Verstappen led from start to finish as his closest challenger Valtteri Bottas was forced to retire after his right-front wheelnut was stripped in his pitstop, which promoted Ferrari's Carlos Sainz to second and McLaren's Lando Norris to third.
"The first podium in a Ferrari is an incredible feeling that I will never forget, especially being in Monaco!" said Sainz after the race. "We knew we had a chance and the pace to make it to the podium this weekend and we executed a flawless race.
"The bittersweet feeling is still there though as I feel for Charles and for the team. All of us here at the track and back home in Maranello are working incredibly hard to be competitive and to make our way back to the top. So it was very unfortunate that today we could not fight with two cars."

Top photo of Charles Leclerc by Scuderia Ferrari Press Office

READ ALSO:
Verstappen claims Monaco victory after Leclerc fails to take start