The first stone has been laid for Beausoleil's new cultural centre, Village Charlot, whose features will include a free library with books from all over the world.
Early renderings of the new community centre were unveiled by the Beausoleil Town Hall in October 2022. On Tuesday 28th February, Beausoleil Mayor Gérard Spinelli, ceremoniously laid the first stone for the construction of the €18.5 million project.
"The challenge is to create a place that promotes exchanges between the communities of Beausoleil, which tend to stay together, to offer them a common vision," said Mayor Spinelli. "Culture is an essential element in the cohesion between inhabitants, and that is why we want to make it accessible to as many people as possible."
It is for that reason, said the mayor, that Village Charlot will be free for all, regardless of the space they enter.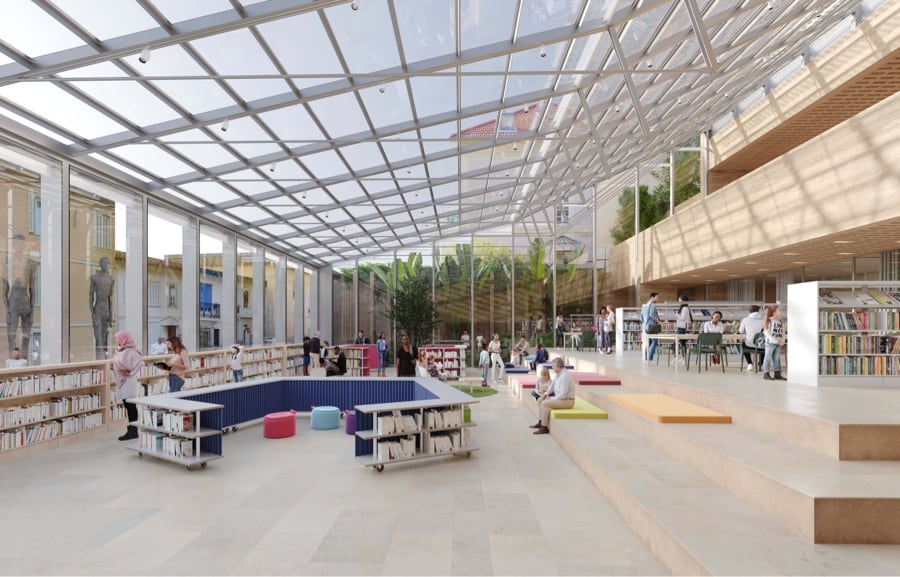 A new culture hub in just over a year
The entire project is due to be delivered as soon as July 2024. Located between Avenue du Maréchal Foch and Avenue du Carnier in Beausoleil, Village Charlot will feature a media library, a toy library, a room for artistic expression, a digital museum, a restaurant area, a philosophy café, a social centre, an artists' residence plus four large workshops, and 1,300sqm of manicured gardens.
With glass as its main architectural feature, the media library will look like a large greenhouse, designed to be flooded with natural light. "We wanted the culture to be visible from the street, whether on Avenue Foch or Avenue Carnier. This transparency will allow that to happen," said project Architect Marc Barani.
The site was purchased by the local municipality in 2008 and the only property left standing on the plot is the 19th century Villa Chêne, which has been completely gutted and will be rejuvenated to form part of the new "village".
Meanwhile, Villa Emilie – which had to be demolished, will be rebuilt identically to the original, with the addition of an extra floor. This will house the artists' residence.
The media library will have a collection of more than 30,000 works, some of which will be international books.
The Village Charlot logo is made up of the face of Charlie Chaplin, aka "Charlot", formed by the five continents of the globe.
SEE ALSO:
Beausoleil unveils first photos of new cultural centre project
Photo above source: Ville de Beausoleil