Just when you thought the award winning, three-Michelin star restaurant Le Louis XV had reached its pinnacle, it goes and offers something new and exciting for its privileged guests.
It was the perfect evening to launch the new pop-up terrace of Alain Ducasse's Le Louis XV restaurant at the Hôtel de Paris. The warm glow of an early evening sun glistening off of a bustling new Casino Square, the hum of contentment radiating from the Café de Paris, a crescent of supercars lining the legendary Casino … for the first time in a long time, it felt like Monte Carlo was whole again.
This evening, we have been invited to experience something special. The Louis XV restaurant, famous for its gilded interior and terrace with compelling views, is cleverly offering extra space for guests this Covid year.
The terrace of the Salle Empire, normally reserved for events hosted in the glamorous ballroom, is now available to guests of the three Michelin-starred restaurant, exclusively for the summer.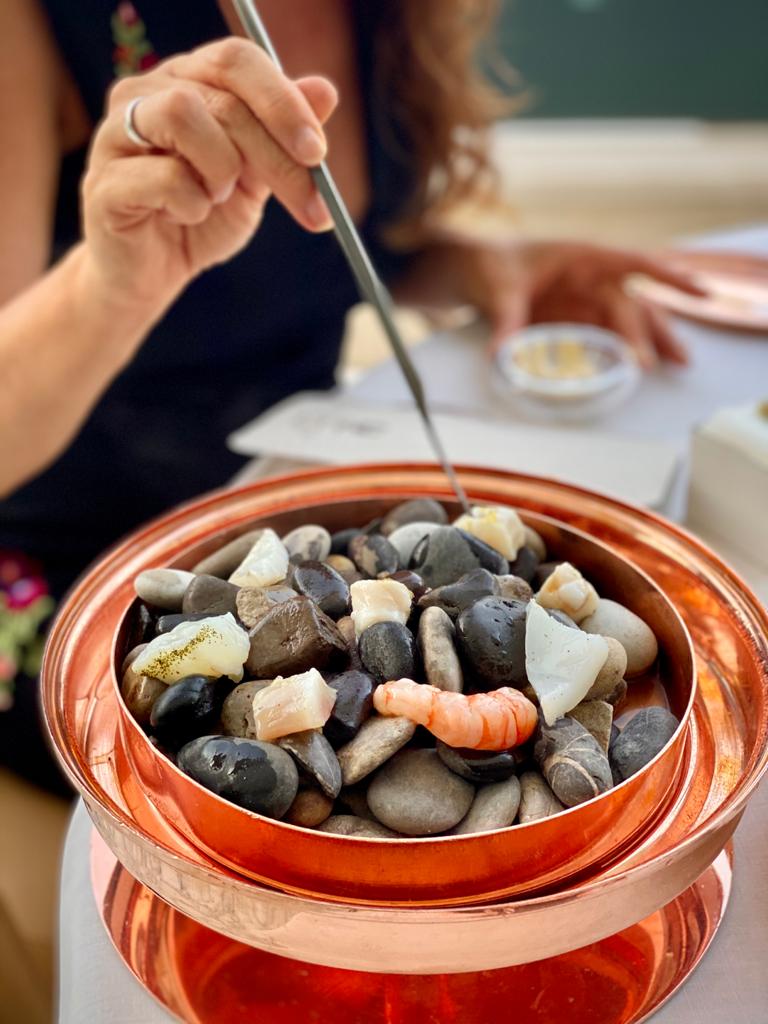 It is the perfect setting for our evening, which begins theatrically with an array of seasoned morsels of seafood steamed a la table upon a bed of hot rocks.
The narrative continues to unfold with a delightful blue lobster in chilled melon broth and hints of lemongrass and ginger. This is perfectly paired with the pear and citrus aromas of a Côtes de Provence Clarendon white – a refreshing ascent for a five-course meal on this warm summer's night.
The full flavours of a Provençal garden shine through on the second course – the chef's interpretation of a vegetable minestrone, celebrating the spectacular simplicity of summer vegetables and the punch of crushed basil.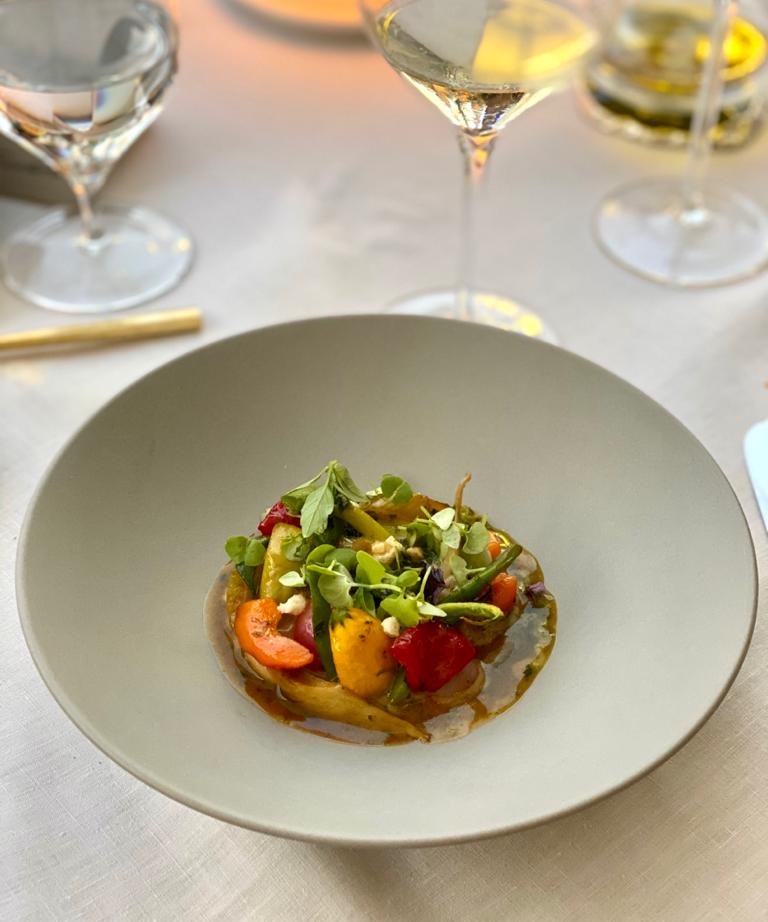 To follow, perhaps my favourite dish and wine of the night – Mediterranean bass coupled with a pop of sea cucumber, a silky purslane puree, sweet summer tomato, and a deliciously rich jus. The wine: a crisp and clean Chassagne-Montrachet white.
By this stage, my palate and appetite are both full and undeniably content, but it would be rude of me not to indulge in the fourth course of the evening: Guinea fowl from les Landes with baby girolles and potato foam. Its richness is cleverly matched with a 2004 Saint-Emilion Grand Cru red.
It is now that we are introduced to Head Chef Dominique Lory. The quietly spoken Frenchman has worked his way through the ranks of Alain Ducasse restaurants since 1998, taking full reign of Le Louis XV in 2013 and wholeheartedly embracing the long-standing philosophy of this world-famous institution: Mediterranean cuisine that is generous, simple and sincere.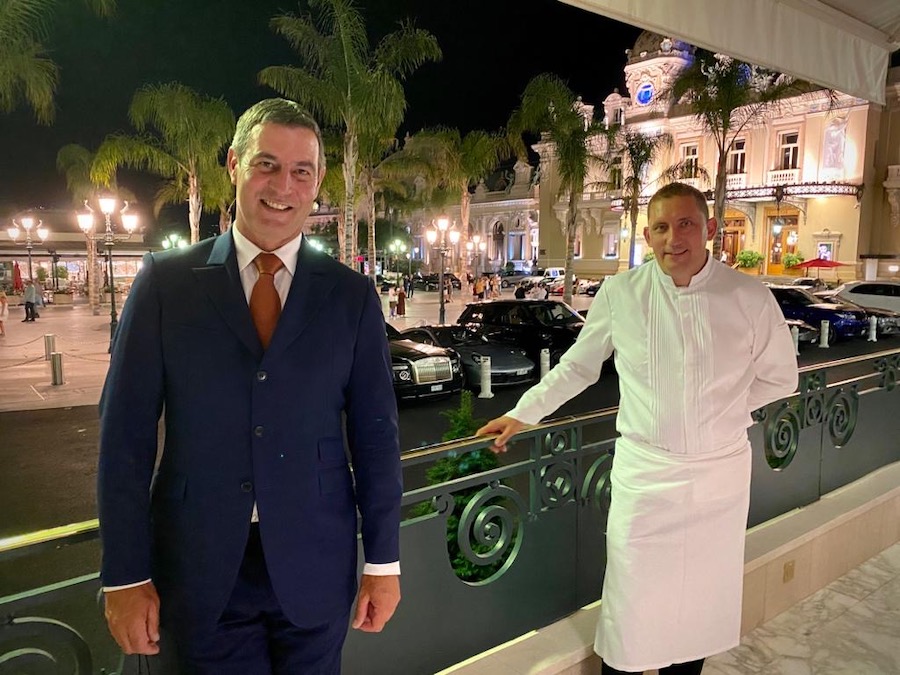 He is accompanied by Restaurant Director Michel Lang who orchestrates an impeccable service to the delight of a very demanding clientele. His dedication to Alain Ducasse and Le Louis XV for more than 27 years now is reflected in a staff who knows how to deliver the very best of French service with just the right amount of warmth to create a truly magical experience.
To end our menu this evening (although it is never really the end, is it?) is the famous Le Louis XV soufflé served with a creamy lemon thyme ice cream and a granita-laced panna cotta. A fruity Sauternes-Barsac from Château Coutet rounds out the degustation.
Finally, a bright green herb garden is wheeled to the table and we are invited to choose our infusion, freshly picked for our tea, accompanied by a selection of rich dark chocolates and homemade candies.
It is a fine end to what can only be described as an extraordinary evening, in an exceptional setting, with impeccable service and a cuisine that celebrates everything about the Mediterranean.
The fact that even more summer guests can now enjoy this privilege with the exhilarating atmosphere of the new Casino Square is simply genius.
See below for a full gallery of the evening, click on the pictures to enlarge…

Photos by Monaco Life, all rights reserved
Related stories:
Louis XV named 'Masterpiece of the year' by Gault & Millau 2020
Princely family inaugurates new Casino Square