Review: AS Monaco Basketball's Euroleague season ended at the hands of the mighty Olympiacos on Wednesday but, as Oleksiy Yefimov told Monaco Life, the team's mere presence in the playoffs this year far outweighs any disappointment.
The Roca Team, in its current form, are an unrecognisable outfit to the side that set out on a journey which began before the start of this Euroleague season. Very few of the members that sealed the Euro Cup success last season, which ensured their Euroleague participation last April, remained. Rob Gray and Rudy Demahis-Ballou were the only ones to stay at a side that required a mass overhaul if it was to compete.
13 first-teamers came in before the start of their debut Euroleague campaign. From big names such as Mike James, Donatas Motiejunas and WIll Thomas, to newcomers such as Alpha Diallo and Donta Hall, they all had to find their place in this hurriedly assembled side.
Under coach Zvezdan Mitrovic, things got off to a strong start, as the Roca Team won both of their opening fixtures. The pieces of the puzzle seemed to fit. But that was as good as it got for Monaco in the early part of the season.
Mid-table mediocrity
Facing some of the stalwarts of the European game, Monaco came unstuck. Logical defeats to Real Madrid, Barcelona and Baskonia arrested any momentum that had been generated. The final defeat to Baskonia was indicative of a side on the slide as Monaco conjured up a mere 66 points.
Monaco went on to win three of their next four before a dismal run of results in late November/ early December turned their season on its head. Five straight defeats for Mitrovic's men prompted the club to make a decision that thereafter made the Roca Team Sasa Obradovic's men.
The turning point
In what was described by Oleksiy Yefimov in an exclusive interview with Monaco Life as "an extremely risky decision," the Serbian returned to Le Rocher for a second spell, charged with leading a side that languished in 14th, into the play-off places.
The turnaround wasn't immediate. Following an overtime win against Zalgiris, the Roca Team lost the next two; the new coach bemoaned the lack of time on the training court as he struggled to instil new ideas into his freshly acquired squad.
Ask and ye shall receive. The latest Coronavirus wave swept across Europe, forcing a swathe of cancellations, whilst Monaco got off rather unscathed. Matches against Lyon-Villeurbanne and Unics Kazan were ultimately postponed, granting Obradovic's wish of some much-needed time with his team over the festive period.
That time wasn't wasted. The Roca Team went on to win six of their next seven in the European division, their only defeat coming in overtime against Real Madrid. But a surprise, on-the-buzzer defeat at home against Zalgiris (82-83) once again halted Monaco's charge towards the play-off places.
Obradovic lamented his side's performance in that particular fixture. "When you just use your talent and do not play team basketball, you give a chance to someone else who is doing this."
Yakuba Outtara, however, struck a more optimistic tone. "It's not over, we can win wherever we go away from home."
War breaks out
Just two days before Russia invaded Ukraine, Monaco welcomed, and defeated, Russian side Unics Kazan at the Salle Gaston Medecin. The "stop the war" sign pre-tip-off has become a fixture of Euroleague matches in the Principality since late February, but the war had a very tangible impact on the Roca Team on the court.
The Russian teams were kicked out of the competition, and all games against Russian opposition rendered null and void. The decision both positively and negatively affected Obradovic's men. On the one hand, Unics Kazan, a team that Monaco had to outperform if they were to qualify for next season's Euroleague, were now out of the picture; qualification for the play-offs was all that was necessary to compete in the 2022/23 season. On the other hand, Monaco's four wins out of five against Russian sides were wiped off, leaving a mountain still to climb in order to reach the much-coveted top-eight.
But climb it they did. Seven wins in their final eight Euroleague games secured them seventh spot. The side could rest easy in their final game of the regular season against Alba Berlin at the Salle Gaston Medecin, in what was essentially a victory lap, a joyous celebration for a team that had scaled unfathomable heights.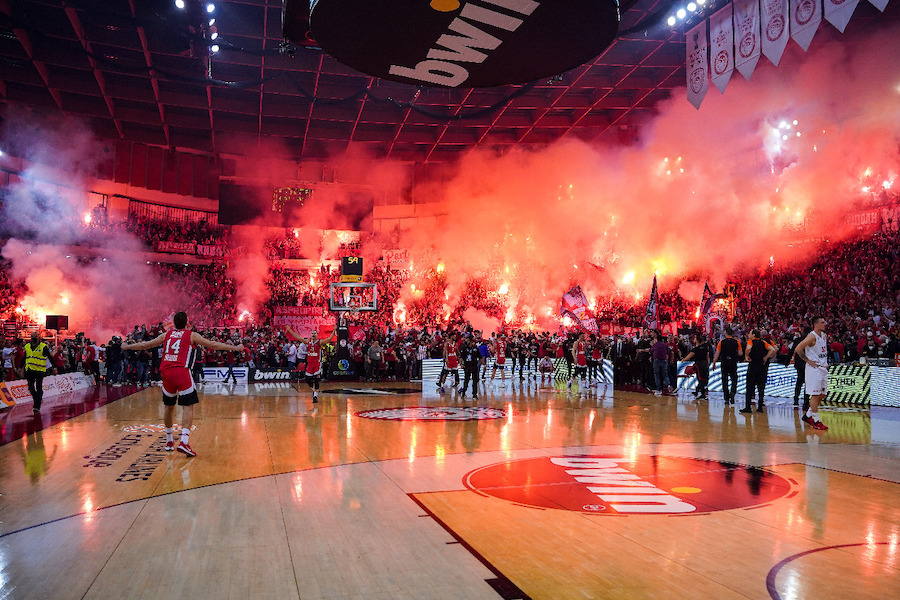 A bittersweet defeat
With form on their side and a place in next year's competition sealed, Monaco headed to Greece, where an entirely different challenge awaited them. Although Monaco prevailed in their regular season meeting against Olympiacos, there was a recognition that they wouldn't have things all their own way in the Peace and Friendship Stadium.
And so it transpired. Olympiacos dominated in the first-leg. Monaco's hunger to make it to the final four in Belgrade was questioned, an accusation that was rebutted every time it was thrown Obradoivc's way. Yet actions are stronger than words, and their actions in the second-leg showed they were still alive and kicking, as they took the tie back to the Principality all square.
Olympiacos retook the lead in the first tie in Monaco, before the Roca Team hit back in the fourth to take it to a final, winner-takes-all tie in Athens. With history, statistics, the crowd and all logic going against them, Monaco nonetheless led for the majority of the tie, before eventually succumbing in the final-quarter, bringing an end to this year's European adventure.
Yet this defeat doesn't have the flavour of any other. In the moment, it is so easy to decontextualise the event, but the cold light of day gives rise to a realisation of what exactly had just happened. Monaco, a side who weren't even in the top French division a matter of years ago, had taken the European giants Olympiacos to a winner-takes-all play-off tie on their own court, and almost prevailed.
Whatever the indescribable flavour of this defeat is, it's a curious one, and one that leaves a lingering aftertaste of optimism and expectation for next year's continental adventure.
The director reflects
Following defeat in Athens, Oleksiy Yefimov reflected on the side's incredible achievement, telling Monaco Life, "I don't believe anyone could have imagined where we ended up. We're the first newcomer team to have reached the playoffs and the first French league representative to reach the playoffs. We've done it with the 14th largest budget amongst 18 clubs, despite the fact that we lost four victories to Russian opposition after the decision to remove them from the competition."
For the Roca Team's managing director, their play-off performance proved their worth. "The quarter-final series against Olympiacos proved that what we did wasn't accidental and that we deserved our place in the play-offs."
With that success comes a larger platform, heightened interest and ultimately more fans. Yefimov is already considering how to accommodate that increased demand. "The government made a miracle when they increased the capacity from 3,000 to 4,000 last summer, and it's great that this summer, the arena will be increased up to 5,000 (minimum Euroleague standard)."
He continued, "We probably couldn't have imagined anything better in the short-term. But of course, the demands for basketball in the Principality are growing and I think that the question of constructing a new arena shall be on the agenda."
This Roca Team has created an unprecedented demand for basketball in Monaco. It's now a question of satisfying that demand and consolidating their success both on and off the court.
SEE ALSO:
Roca Team go down swinging in Euroleague classic
"The most important two weeks in the club's history"