Romain Goiran, owner of Ambitious Monte-Carlo, spoke to Monaco Life about boxing through the pandemic, supporting fighters in Cameroon, and reviving the Fight AIDS Cup with sports enthusiast Louis Ducruet.
The stories of Goiran's multiple ventures are at best punctuated by, at worst, defined by struggle and hardship. The Covid-19 pandemic in particular posed its own set of seemingly insurmountable problems, forcing a complete re-conception of the Ambitious business model, and throwing his Fight Aids Cup project in doubt.
The Fight Aids Cup did, however, go ahead, and Ambitious has adapted and persevered. Ambitious is under the stewardship of its highly-motivated manager Goiran, looking to become a larger player on the global stage whilst seeking to bring a new boxing culture to the Principality.
Crises as opportunities
No phrase sums up Goiran's reaction to adversity quite like this one: "The best projects come to the fore in times of crisis." Whilst others were forced to scale-down operations, Goiran was doing the opposite.
Alongside his work for Ambitious, Goiran juggles a range of other responsibilities, most notably his work with Louis Ducruet, Prince Albert's nephew and the son of Princess Stéphanie of Monaco, which recently yielded the latest instalment of the Fight Aids Cup in the Principality. The aim of their collaboration is simple, as Gorian tells us: "With him, we do the maximum to find projects to bring to Monaco."
The match itself, which sees Prince Albert II's Barbagiuans face off against Princess Stephanie's Cirque FC, existed long-before it became popularised in its current format. "It was a tradition that was an amateur affair at the Stade Didier Deschamps, without press or anything like that. A proper family affair."
Goiran and Ducruet are responsible for changing that, bringing it to the Stade Louis II and turning it into a mediatised, charitable event for the first time in 2020. Following the cancellation of the event in 2021, the sanitary context in 2022 made the realisation of the second installation questionable once again. "We were told three weeks before that we wouldn't be able to do it."
Not only did the event go ahead as planned in January, it was even improved upon. "We told ourselves that the first year was good, but that we could do better. Better is what you saw this year, with an event in two halves, the gala dinner on the one side, the match on the other, as well as welcoming bigger players, bigger stars."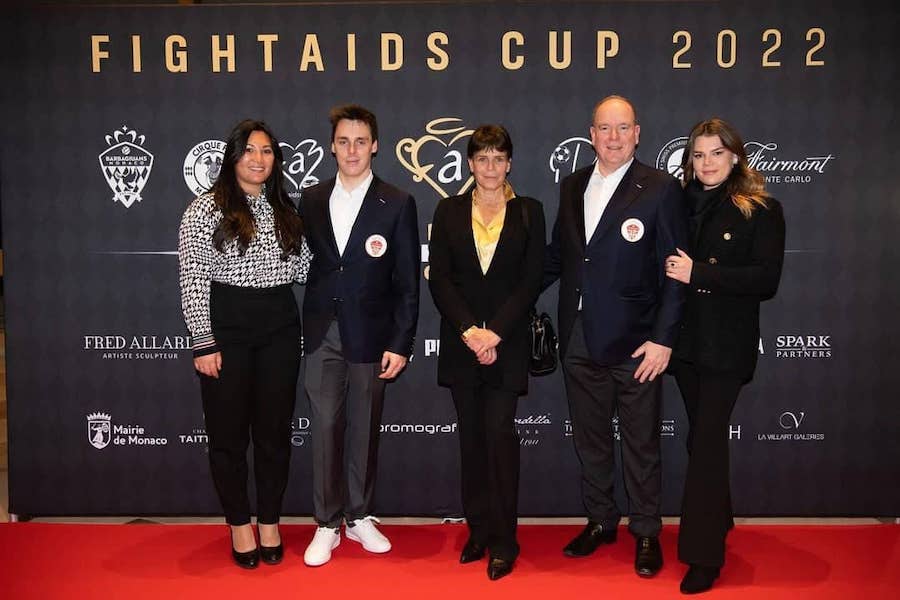 Boxing through the pandemic
Goiran's collaborative project with Ducruet isn't the Monegasque businessman's only success story of the pandemic. His Ambitious Monte-Carlo business, which he runs with his associate Jean Marc Toesca, has also faced a difficult set of challenges.
In its infancy, Ambitious created networks around sportspeople, the sheer wealth of sports stars and events in and around the Principality bringing in an elite clientele. "A year ago, we had a quarter of AS Monaco professional players," says Goiran. "We create teams around footballers. We find them an osteopath, a kinesiotherapist, a boxing teacher, a yoga teacher, a dance teacher, a tai chi teacher. That was the business model at Ambitious, before having boxers."
The business has since diversified its activities. As Goiran succinctly puts it, "Ambitious is an organisation for boxers to support boxing. It isn't for us, it's for the boxers." When the pandemic hit in 2020, Ambitious struggled to continue to fulfil its function. Social distancing and sparring sessions, or indeed fights themselves, don't exactly go hand in hand.
Although training became feasible after the first lockdown, the lack of prospects for events, and the fragile economic situation of boxers and boxing itself left Ambitious and Goiran in a precarious position. His entrepreneurship, his drive to make the project work and a disused family tennis court in La Turbie would come in handy. "Ambitious is a sporting support service, but we said, in order to survive, we have to be more than that. So, we created our own training camp in La Turbie. We took a tennis court  from my family that was never used, we added a military tent and put in a ring. So, we created a boxing camp, which allowed boxers to continue to train."
Although the training camp in La Turbie facilitated the boxers' preparation for bouts, the fact remained that there weren't many fights out there. During the toughest times of the pandemic, the threat to boxers' careers became an existential one. "If you have an economy that is solid, even in times of crisis, then things can still happen. But the boxing environment in France is ridiculous. The boxers themselves are the ones who have to organise their own galas, it is them who pay. They call their family, their friends for financing. It is them who create their own financial base upon which to fight."
Larger fighters at Ambitious, like Cameroonian-French boxer Hassan N'Dam, could ride out this difficult period, but others had to look for alternative means of income. "We encouraged the younger boxers to find work, because they simply didn't have a choice, and we helped them to do that through our partners."
Monaco and boxing: A more exclusive clientele
Goiran recognised the importance of organising an event, and this was realised during last July's 'Chill out on the bay' event at Villa Calvi. It provided a lifeline for the fight-deprived boxers of Ambitious, with tickets for the high-level event selling for €500. Not only that, it has also inspired Goiran to bring similar events to Monaco. "The Villa Calvi event was a great model that we can replicate in Monaco 100%," he says.
Goiran sees the potential to go smaller, even more exclusive, as he announced an exciting plan to bring boxing to the skyline of the Principality. "We have visited the rooftops here and we want to propose a project to do small boxing matches, very private, for 15 people, three fights. That is something that we'll do, we know it's doable." This project could soon see the light of day, as he added, "We've already found a few places with partners."
His confidence in this project is unwavering, referencing an already blossoming sports scene in the Principality as well as the successful fights hosted by the Monte-Carlo Casino. "In Monaco everything works, this place is amazing. You have a lot of sports, a lot of different people and nationalities, so of course it can work."
A global mindset
His ambition for Ambitious isn't confined to the border that separates the Principality from France. He is already well accustomed to making flights to and from Manchester, where he visits the business' footballing clients who have made the switch from the Riviera to the UK.
He has now set his sights further afield on the west African country of Cameroon, where his work in collaboration with Ambitious boxer N'Dam aims to serve both a social and sporting purpose.
"What Hassan (N'Dam) explained to us is that there are a lot of good fighters in Cameroon, but they are very poor, so to get a chance to achieve their dream, they have to come to France, but they do so without any money," Goiran explains. "They sleep outside, they struggle to eat, they don't have official documentation. So, with some partners in France, we can give money and organise events in Cameroon to fund these top fighters, who could become world champions."
As Goiran says, Cameroon is a country "rich in great fighters", the aim of Ambitious' latest project is therefore to give them the means to shine on a global stage, without constraints. "A boxer should think only about boxing, not about what he has to do to pay for his ticket to get to France, to Italy or elsewhere, about what he will do in terms of accommodation, in terms of food. If this guy really has great boxing potential, he deserves to have partners at his level of boxing."
Be it through his work with Ducruet or through Ambitious, Goiran's contribution to Monaco's sports scene is unequivocal. Pivotal to that success is a fighting spirit, an unerring belief, that he could overcome whatever struggle presents itself, and persevere to make his mark on Monaco's rich sporting landscape. "You will always have difficulties, there's always something between yourself and the objective. If it's easy, it's a trap."
SEE ALSO:
Princess Stephanie's Cirque FC win Fight Aids Cup
Photo of Romain Goiran by Luke Entwistle, Monaco Life