Even superyachts need a touch up, some tender loving care and a lot of attention (superyachts have super egos). And when the time comes to refit or repair, it's the shipyards that will nurture them back to rude and robust health. 
Tanguy Ducros is CEO of Monaco Marine, a network of shipyards for the refit and maintenance of yachts between eight and 160m +. The company has eight yacht facilities and one marina located between Monaco and Marseille. Over 3,000 yachts undergo refit, repair or wintering at the Monaco Marine shipyards every year. Between them they offer 132,500 sqm of dry land, a haul-out capacity of up to 2,000 tons and unlimited yacht size afloat. 220 employees and 800 contractors work at these sites. The yards specialise in standard maintenance but also big specialist refits. Crew facilities are provided at the larger shipyards, La Seyne, La Ciotat and Marseille.
Ducros has sorely missed the presence of the Monaco Yacht Show (MYS) on the calendar this past year and MYS 2021 can't come soon enough. He's keen to actually meet up again with the business associates and clients he's been zooming, and to get a good look at the yachts that have launched over the last couple of years. "I want to renew ties with the people we have missed seeing during the pandemic and I have great expectations for MYS 2021," says Ducros. "We chose to act as partners with the show this year to offer our support and encouragement to the organising teams."
MYS offers up the opportunity to meet with the people from abroad who he has not been able to see due to the travel restrictions, and, as he says, it's easier to have more intimate and meaningful discussions physically and face to face. "The MYS also gives us the chance to meet new clients who have begun to take an interest in the superyacht industry over the last couple of years," he adds. Monaco Marine clients are worldwide and come from Europe, America, Asia and Russia.
The majority of work carried out at the yards involves classic maintenance. 30% of the turnover is generated from owners looking to customise their yachts in some way to make it unique. This might involve a paint job, extending the yacht or modernising the technical systems.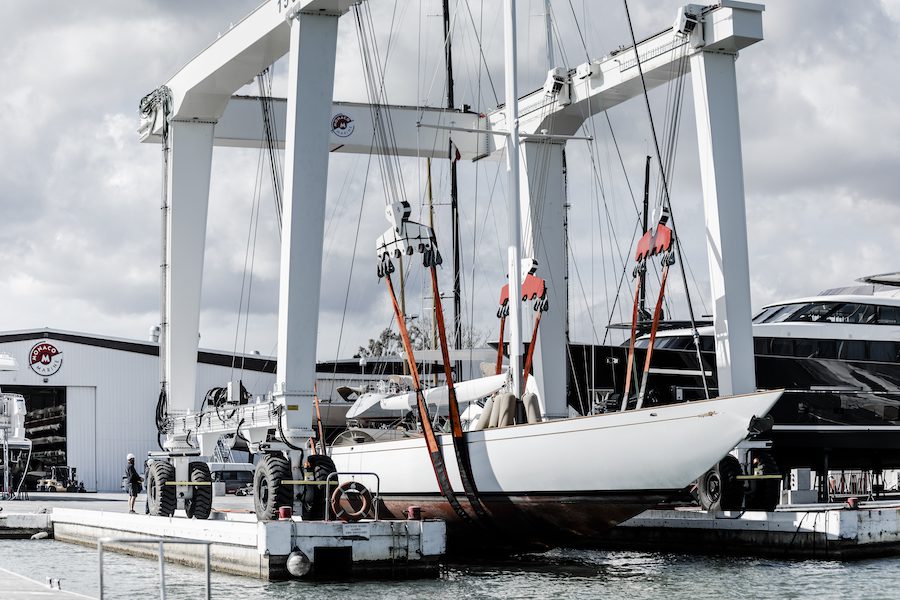 Ducros has plenty to talk about this year as plans evolve at Monaco Marine: "At the beginning of this year, we obtained the concession renewal of Monaco Marine Antibes and development projects are planned for 2022. Soon, Antibes will be equipped with a new 300 tons travel lift, 9,000sqm of additional hardstanding (17,000sqm in total), a new workshop and guest welcome areas, an ecological efficiency plan and improved electrical capacity for larger yachts."
Monaco Marine also recently renewed the concession of the shipyard at Beaulieu sur Mer until 2055 and ambitious investment plans will be announced soon. Work is also underway at Monaco Marine Juan-les-Pins in Port Gallice.
Now that the renewal of the marina concessions is complete at Antibes and Beaulieu, Ducros and his teams will concentrate on their development renovation. Meanwhile, he's always on the 'qui vive' for any new and interesting projects throughout the Mediterranean.

Close Quarters with Tanguy Ducros:
What's your advice to someone looking to break into a career like yours?
My top career tip would be to start young at whatever you want to do.
Your worst career moment?
I'm not sure what my worst career moment is, but Covid was definitely a challenge to overcome.
Best part of your job?
Travelling, meeting people and visiting shipyards throughout the world.
What are you most proud of?
I'm most proud of Monaco Marine and its people who work everyday serving and assisting our customers.
Favourite meal and a figure you admire?
I'm a Mediterranean man and I love Italian cuisine so in an ideal world I'd share a bowl of pasta with the two men I admire most: on a personal level, my father, and more globally, Nelson Mandela.
If you weren't director at Monaco Marine, what would you be?
I think I'd be an entrepreneur. Not necessarily in yachting but in an industry that offers some kind of service to people. That's what I like most, customer service and helping people.


RELATED STORIES:
MYS Series: The Superyacht Captain
MYS Series: The Superyacht Broker


Photos by Guillaume Plisson