Prince Albert has officially inaugurated Monaco's new port, Cala del Forte in Ventimiglia, alongside his niece Camille Gottlieb and children Prince Jacques and Princess Gabriella.
It had been a long-time coming. After officially opening in October 2020, authorities in the Italian seaside town had to anxiously await the lifting of restrictions in order to host the official inauguration.
But that time came on Friday 2nd July when Prince Albert was welcomed on the quay by President of Monaco Ports Aleco Keusseoglou, Navy CEO Gian Battista Borea d'Olmo, Construction Coordinator Daniel Regalini and Port Director Marco Cornacchia.
By his side were his six-year-old twins and the youngest daughter of Princess Stephanie, Camille Gottlieb, the "godmother" of Monaco One, a superfast shuttle connecting Cala del Forte with the Principality of Monaco.
The new port features 178 berths from 6.5 to 70 meters in length, and has been built with sustainability in mind, including solar panels on the Service Tower, recharging stations for electric cars and boats, dedicated waste collection rooms, low consumption LED lighting of the port, and electric golf car and forklift.
Monaco holds the concession to the Cala del Forte until 2094, the longest port concession in the Mediterranean.
The port also has 577 parking spaces, 15,000 m2 of promenades and gardens, and 35 businesses including restaurants, bars, offices and boat services.
Meanwhile, the 2,700 m² shipyard, being run by Cantieri di Imperia, has hauling and launching capacity for yachts up to 30 metres long.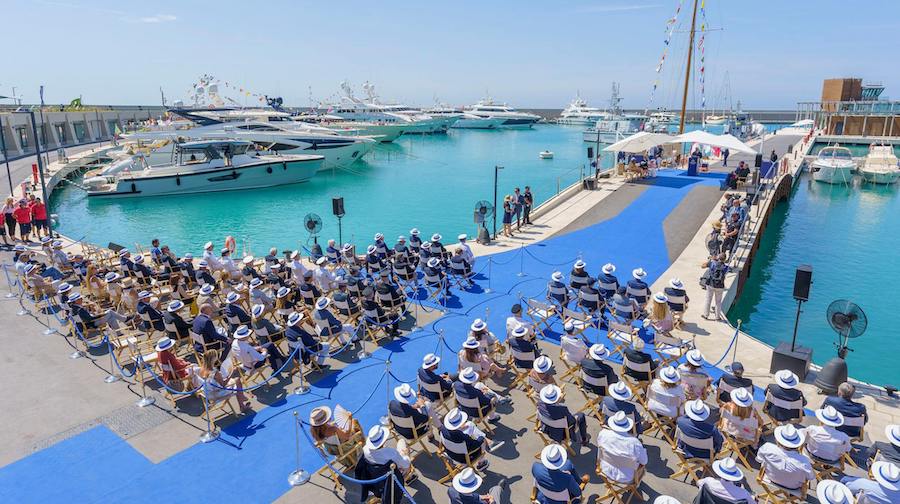 This port has been a long time in the making – the first stone was laid 12 years ago – and it is now a key aspect in the development of the Italian city.
"Today is an important day because this beautiful port is being inaugurated after a period of health emergency that has united Italy, France and the whole world," said president of the Liguria Region Giovanni Toti in his inauguration address. "It is an example of collaboration, which opens a way for all of us and which will bring satisfaction both to the Principality of Monaco, which has invested in this truly beautiful and extraordinary work, and for the citizens of Ventimiglia. Liguria was the first nautical production district in Italy and it is nice to see places like this, where the boats built by our workers are housed."
I thank those who believed in this initiative and contributed to creating this jewel: the Principality of Monaco, the Municipality of Ventimiglia and also the Liguria Region. Whatever the Principality intends to do here, it will have an attentive and present partner in the Region."
Photo credits: Cala del Forte
READ ALSO:
Princely family turns out for shuttle inauguration
Monaco-owned port in Italy opens for business