The Principality of Monaco has always been a magnet for Formula 1 drivers, both past and present, and almost half of the 2023 Formula 1 grid are currently residing in Monaco.
Monaco is a global hub for motor racing. As well as hosting the Monaco Grand Prix, arguably the most iconic race in the world, it also hosts other races such as the Monte-Carlo Rally, the Historic Grand Prix, and the Monaco ePrix. 
This is part of what makes Monaco such an attractive place to live for drivers. The tradition of Formula 1 drivers moving to the Principality is engrained. Former World Champions Mika Hakkinen, Jenson Button and Nico Rosberg are all based in Monaco, whilst former stars such as David Coulthard, Mark Webber, Paul Di Resta, Antonio Giovanazzi and Daniil Kvyat also reside in the Principality. 
Why do F1 drivers live in Monaco?
There are many reasons why F1 drivers flock to Monaco. The temperate climate year-long is a big draw; the fact it is English-speaking is a plus; its central location in Europe makes it an ideal base given that many of the races still take place on the continent; and there is also an element of following the crowd. Despite Formula 1 being a pressure-cooker environment, and whilst relationships can often be strained, many on the grid are very close, and it is therefore natural that they live close to one another.
"Where I've moved to (Monaco), there are quite a lot of people that I know there, quite a lot of the drivers are there, so there's a bit more of a social life," said Lewis Hamilton upon his move from Switzerland to Monaco back in 2012.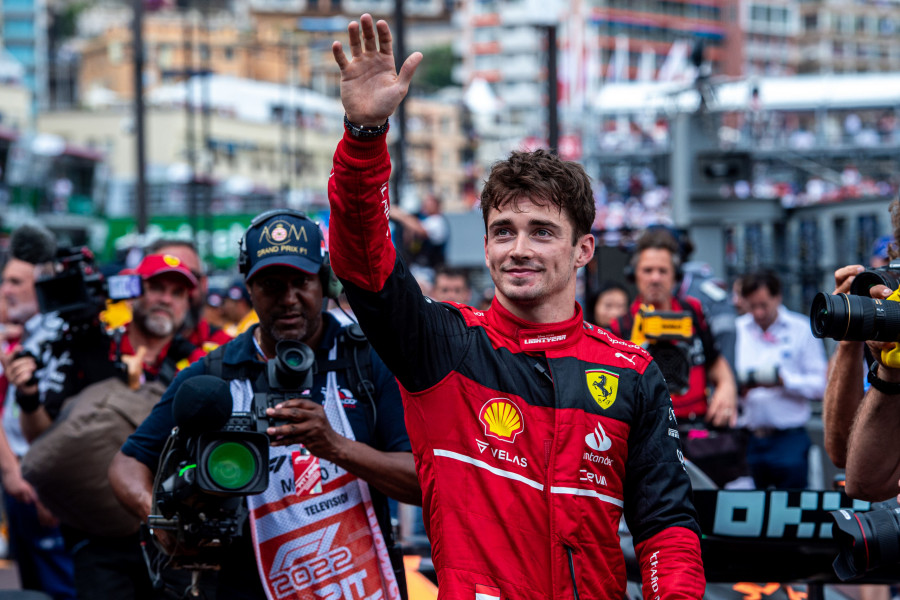 However, the principal motivation for moving to Monaco is often financial. McLaren driver Lando Norris, who revealed his move to the Principality in December 2021, said, "People do many things in life for money. This is just another one."
The British driver, who is entering his fifth season in Formula 1, added, "It's something that obviously a lot of drivers go to do and especially, with how racing is, I think we've seen for other drivers how quickly things can also go downhill." Monaco is a tax haven, meaning that residents don't have to pay personal income taxes. 
This year, nine of the current grid, consisting of 20 world-class drivers, currently reside in Monaco, whilst another, George Russell, is said to be considering a move to the Principality and has been spotted around the area with increasing frequency as of late. Monaco Life takes you through Monaco's current crop of F1 stars. 
Max Verstappen
The current World Champion has been living in Monaco since October 2015, and currently resides in Fontvieille. The Dutchman had previously been living in Belgium. The Red Bull driver beat Hamilton to win his first title in 2021 before winning the 2022 championship at a canter. Verstappen denies moving to Monaco for financial reasons, stating at the time that his salary "has not changed". Verstappen is expected to move to Maraterra, the new coastal district under construction in Monaco, upon completion of the works in 2025. 
Charles Leclerc 
Leclerc is not just a resident, but a citizen. The 25-year-old Ferrari driver has been living in the Principality since birth, and reportedly currently resides in the Jardin Exotique area. The Monégasque knows the streets of Monte-Carlo well, but is yet to pick up his first race on the streets on which he grew up. Perhaps 2023 will finally be his year. 
Lando Norris 
The McLaren driver, who made the move in 2021, reportedly lives in Monte-Carlo. The Brit moved from Surrey to the Riviera and cited financial reasons for his move to Monaco. 
Sergio Perez 
The Red Bull driver lives in the Principality, and last season won his first Monaco Grand Prix, profiting from tactical errors by the Ferrari team to take the chequered flag on the iconic streets of Monte-Carlo. 
Valtteri Bottas 
The Finnish driver, who currently races for Alfa Romeo, lives in Port Hercule. An avid cyclist, he like many others in the Principality such as Mark Webber, make the most of the mountainous local roads and can be seen cycling on the haute, moyenne or basse Corniche, which leads you all the way to Nice. Bottas also competed in the maiden edition of the Beking event in 2021. 
Alex Albon
The Williams driver, who has British and Thai nationality, lives just three minutes away from the paddock during the time of the Monaco Grand Prix. He revealed in an interview with last year's teammate Nicolas Latifi that by June 2022, he had only spent one month of the year actually in the Principality due to frequent visits to the simulator in the UK. Albon stated financial reasons as a motive, joking with his teammate that he wants "to keep his money". He added, "Beyond the obvious [financial] reasons, Monaco is just a nice place, the weather is consistently nice and it's quite quiet."
Nyck De Vries 
The Dutch driver is set to take part in his debut season in Formula 1 with Alpha Tauri. The 2020/21 Formula E champion has previously said that he likes the communal element of living in Monaco. "I think it is a very sporty community. It is very international and welcoming. Everyone is very open and it is very easy to make contacts and friends. There are lots of sportspeople, especially in racing. It is just a nice vibe. I have the sea in front of me and then the mountains. I am very happy [in Monaco] at the moment," he said in an interview with The Star. 
Nico Hulkenberg 
The German is making a return to Formula 1 this season with Haas. He previously revealed that the beauty of the local area was a driving force for his move to the Principality, but another factor was his reported pre-race ritual. Hulkenberg likes to sleep at home the night before a race, and living in the Principality allows him to do that on the eve of the Monaco Grand Prix. 
Lewis Hamilton 
The British driver, who will once again drive for Mercedes this season, holds the joint record for World Championships, which he shares with Michael Schumacher. Hamilton reportedly lives in Monte-Carlo after making the move from Switzerland to Monaco back in 2012. 
Does George Russell live in Monaco? 
The residence of the British driver is currently unclear. Although the London resident doesn't officially live in the Principality, he has been spotted in Monaco with increasing frequency of late. Russell has reportedly set his sights on moving to Monaco for some time but has previously been hindered from doing so, most recently due to uncertainty surrounding his seat for the 2022 season. 
However, as an established Mercedes driver, he may now have made the move. He has been spotted at Nice Côte d'Azur airport, as well as at some restaurants around Monaco, where he has dined with team principal and resident of the Principality Toto Wolff. Nothing is confirmed, but the signs are – seemingly – that he is close to, or already has, moved to Monaco. 
Does Fernando Alonso live in Monaco?
Aston Martin driver Fernando Alonso's residency status is also unclear. It is thought that he still lives in his native Spain, but the former World Champion is also regularly spotted around Monaco. Be it running on the digue or dining at Cipriani in Monte-Carlo, he certainly has a regular presence in the Principality, and perhaps more. 
Nine current Formula 1 drivers are confirmed to be living in Monaco, and if the residences of Russell and Alonso are confirmed, then over half of the 2023 grid would be based in the Principality. The host country of arguably the most iconic Grand Prix is the home of motorsport in more ways than one. 
Sign up for the Monaco Life newsletter. For the latest news, follow us on Facebook, Twitter, and Instagram. 
Photo above credit: Scuderia Ferrari press office