Hauser and Wirth has unveiled its summer exhibition: one that pairs John Chamberlain's early poetry with his sculptural series Gondolas and Tonks, works that epitomise the artists poetic approach to materials and scale.
It is the first time that Hauser and Wirth has shown a John Chamberlain solo exhibition here in Monaco.
Titled The Poetics of Scale, the premise is to focus on a body of work that the American artist made when he moved to his studio in Florida in the early 1980s.
John Chamberlain, born in Indiana in 1927, became known in the 1950s for using automobile parts for his sculptures; for welding and crushing them together. He is one of the most prominent post-war American sculptors, but he is associated with a variety of different movements. Many people interpret his sculptural technique as being allied to abstract Expressionism.
They also say his use of car parts and paint is allied to Action Painting: it's very gestural and it has an emphasis on colour. He stayed for a time with Pop Artist Larry Rivers in New York, so pop artists saw him as a peer. At the same time, he was also being seen as a peer by the Minimalists because he was using industrial materials.
But in his mind, Chamberlain saw himself in Duchamp and the Readymade.
"John Chamberlain was allied to all of these movements, and yet none; he moved between them, and all of them were admirers of him. He built friendships and peer relationships with figures within all of the important post war mid-century art movements in the United States," explains the exhibition's Curator   Tanya Barson during a press tour.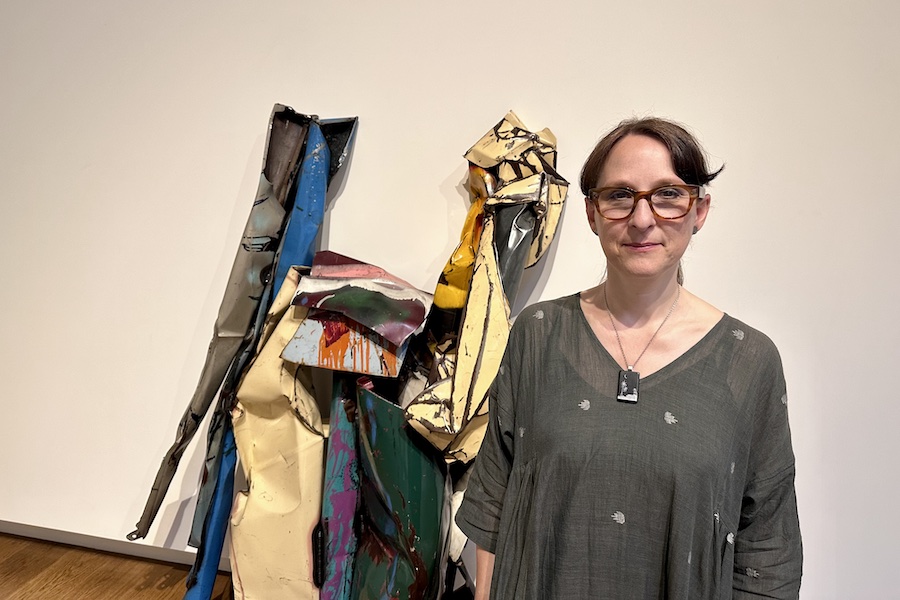 The Poetics of Scale is on show at the contemporary Hauser and Wirth gallery  in One Monte-Carlo all summer.
It picks up the story in 1980 when Chamberlain moved to the coast of Sarasota, Florida, when he arrived on his boat. He found a studio on the marina and began working on a commission using truck parts.
"He looks around his studio and sees the remnants of the trucks, which are actually the chassis'. They remind him of Venetian gondolas. You can see why he's thinking about boats. He's thinking about the really long horizontal form of a gondola and the form that these truck chassis gave him. But he's combining that with more coloured, crushed parts of trucks to build up the forms here," says Barson.
The Gondolas are each given a subtitle, named after a poet: one is called 'Gondola Hart Crane', the other 'Gondola Marianne Moore'. "It's The recurrence of that early influence of poets in these works."
There is another reference to that influence in this exhibition, a series of early poems written by Chamberlain whilst he was at Black Mountain College, often addressed to his first wife Elaine; the subtle, romantic words are a stark contrast to the masculine, solid sculptures that dominate this exhibition space.
"There's a lot of really interesting imagery here to do with women, to do with his relationships with women, but also to do with his relationship with other artists," says our guide.
But the show is called The Poetics of Scale because at the same time as he was making these large works, he started another series, which he called the Tonks. They are small sculptures, a reference to the famous miniature Tonka trucks, which Chamberlain created using different car and truck parts.
A third sculpture, floor based, is called the Dhuha Ditty, another piece from his work in the early 80s.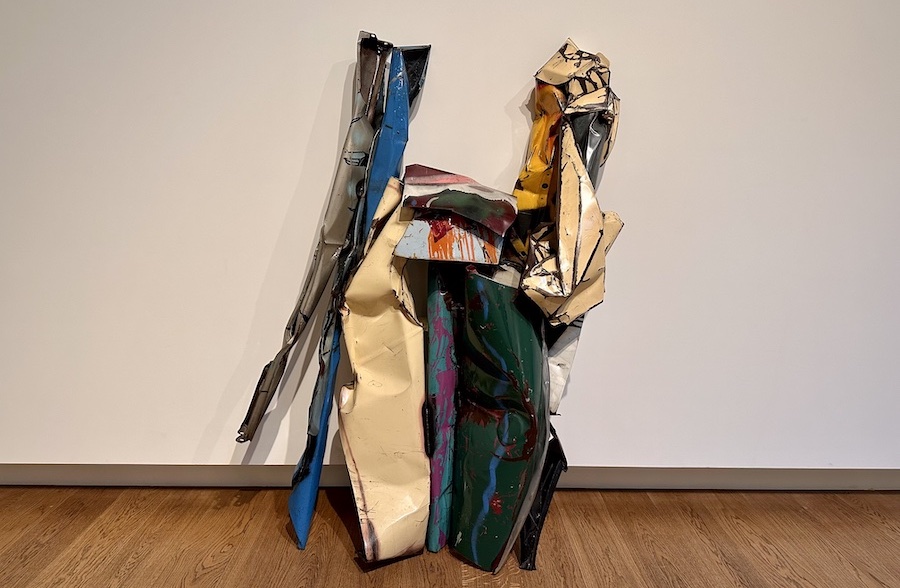 The international art house Hauser & Wirth opened a gallery in depths of One Monte-Carlo in the summer of 2021. It has since hosted contemporary exhibitions including Paul McCarthy's Pirate Stew Pot, Amy Sherald's 'The World We Make' , and Roni Horn's 'Sweet is the swamp with its secrets'.
"It's an extraordinary pleasure to curate here. It's an incredibly beautiful space," says Tanya Barson. "It is a very large-scale gallery, but it is a context where you can show work of a different scale. We can show really large-scale works, and Gondolas being a case in point, these are really monumental sculptures, amongst the largest that Chamberlain made. You need to give them space and this is absolutely a beautiful gallery to show them in."
John Chamberlain. The Poetics of Scale is on view until Saturday 2nd September 2023. The exhibition is free to attend and no advance booking is necessary.
See more in our Instagram video below…
View this post on Instagram
Do you have an event in Monaco or the French Riviera that you would like us to include in our What's On section and events calendar? Please email editor@monacolife.net.  
Photo above of Gondolas by Monaco Life
SEE ALSO:
Monaco Art Week announces dates and participants for 5th edition