La Pérouse Hotel in Nice has reopened after a total renovation that blends the old and the new, and the result is spectacular. Here's everything you need to know.
In May 2023, La Pérouse reopened its doors after a total makeover. Whilst this may imply a complete modernisation, that is only a part of the story of this lovely boutique address, which has been hosting the rich and famous, such as author James Joyce who started writing Finnegan's Wake at the hotel in 1923, for over a century.  
TRANQUILITY CENTRAL
The project was managed by Friedmann and Versace Studio, and was the first hotel the designers have tackled.  
"La Pérouse is a magical place," say Virginie Friedmann and Delphine Versace, the duo behind the studio. "We couldn't imagine a better opportunity for our first venture into hotel design. This place has every possible advantage: incredible views, an ideal location and plenty of surprises." 
It's just minutes from Nice's Old Town and the flower market on Cours Saleya, the hotel features terraces cut into the side of Castle Hill, a rooftop solarium, a glorious citrus garden, a pool carved out of rock and the most incredible views around.  
But the most astounding thing is the peace and quiet. Despite being a stone's throw from the hustle and bustle below, La Pérouse is an oasis of calm.  
A ROOM WITH A VIEW
Nearly all of the 53 rooms in the hotel have sea views and outdoor lounging areas where guests can gaze down at the world going by whilst sipping a cool drink.  
The décor is elegant and tasteful with an Art Deco feel that isn't old-fashioned in the least. The soft curves of the furniture are joined by a neutral palette yet punctuated by warm colour pops and some rather funky touches, such as a plastered fireplace that looks like something straight out of Dr Seuss.  
Terre mêlée ceramic tiles from Italy, moulded daub wall lights, coral lamps sourced in Palermo and exquisitely wrought banisters are just a few specific touches the team brought to the space.  
"For the La Pérouse project, [they] went into every detail, selecting objects and materials with equal precision," says the hotel management. "Most were either bespoke or found on hunts through local galleries. Under [Friedmann and Versace's] direction, at least 10 artisans and artists took part in creating a décor that is entirely unique."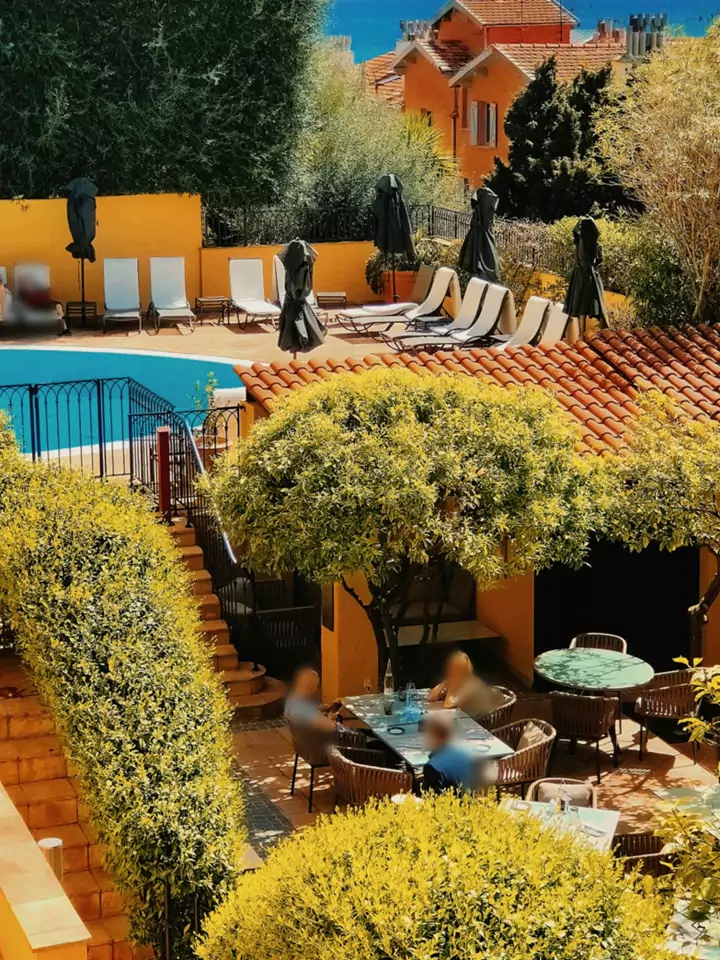 THERE'S A RESTAURANT TOO
The hillside restaurant, Le Patio, has been an open secret amongst Niçois for decades and is an ideal spot for a romantic meal. The terrace is dotted with lemon tress, which offer shade and a bit of privacy, but it's the food that keeps people coming back.  
Chef Damien Andrews, who has been a member of the Association of Escoffier Disciples since 2022, "cooks from the heart".  His skills were honed under his mentor, Chef Patrick Raingeard, who received Michelin stars at Monaco's Port Palace and at Cap Estel. 
The cuisine is simple and employs plentiful local ingredients, allowing the food's flavours to speak for themselves without heaviness.  
"My aim is to show off these products via a sharing menu that uses well-honed techniques to bring out the most refined expression of their essential flavours," he says.  
His signature dishes include: a 1.5kg tomahawk steak accompanied by a homemade Béarnaise sauce; slow-cooked monkfish with violet artichokes and Niçoise olives; sea bream with raspberries and ginger; and, for dessert, an espuma au yahourt with red fruits.  
Click on the images below to see more…
Make sure you're never left out of the conversation.
Sign up for the Monaco Life newsletter, and follow us on Facebook,  Twitter,  Instagram and LinkedIn.  
Featured photo source: Hôtel La Pérouse