Take a look inside the two apartments – one a penthouse, the other with an incredible sea view terrace – located at the Palais Maeterlinck on the Cap de Nice that are being listed exclusively by Côte d'Azur Sotheby's International Realty.  
The story of the Palais Maeterlinck, and how it came to get that name after many others, requires some telling.  
A history
It was originally to be a home for the American hotelier and casino owner Frank Jay Gould, who famously helped establish the French Riviera town of Juan-les-Pins as a destination, but the magnificent plot, which dominates the Cap de Nice, would eventually be bought by the Count de Miléant in the 1920s.  
The Russian aristocrat also had dreams of casino ownership, and that was his goal for Castellamare – his name for the four-hectare property. He wanted it to be a rival to the Casino de Monte-Carlo, which was growing in popularity and fame year-on-year, but abandoned his project when the Palais de la Méditerranée opened on Nice's Promenade des Anglais in 1928.  
Two years later, at auction, the vast estate, an unmissable feature on the coast between Nice and Villefranche-sur-Mer, was purchased by Nobel Prize laureate Maurice Maeterlinck and his wife Renée Dahon for two million Belgian francs, according to Côte d'Azur Sotheby's International Realty.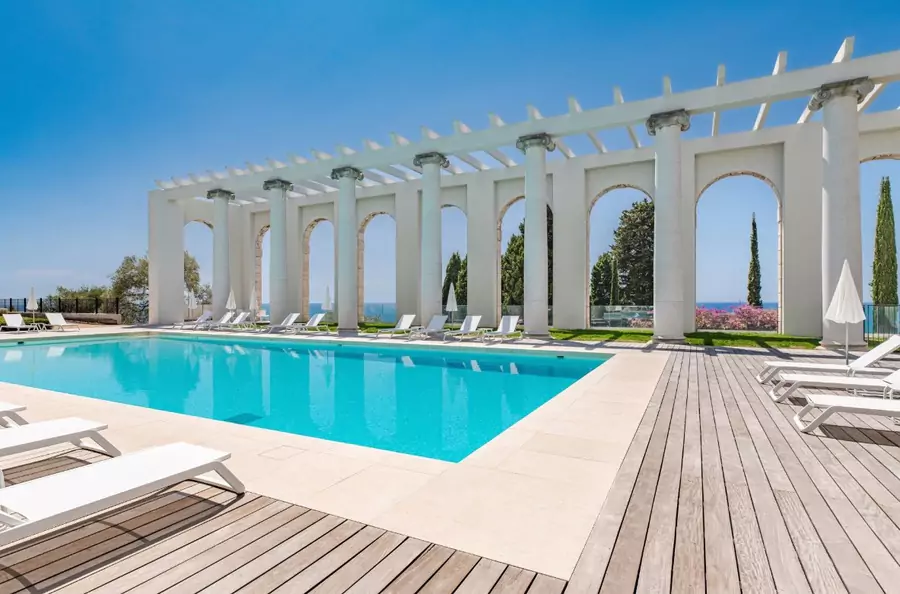 However, it was still not yet called the Palais Maeterlinck, that would come after the literary legend's death. To Maurice and Renée, it was the Villa Orlamonde, a name chosen in reference to a poem from 'Ariane et Barbe-Bleue' by Maeterlinck and Paul Dukas.  
Maeterlinck continued with the development of the property during his tenure as its owner, and his heir would later transform it further with the help of a property developer. It was during this stage that it was separated into some 20 different apartments.  
The Swiss businessman Henri-Ferdinand Lavanchy slowly bought up these flats from 1987 onwards and would eventually unite them into a hotel, which opened in 1990 with the name we know most now: the Palais Maeterlinck. 
The modern day
Today, the Palais covers a mind-boggling 6,000sqm. It stopped operating as a hotel in 2008 and was redeveloped and renovated – all while preserving some of its iconic features, like the frescos, onyx bathtubs and coffered ceilings – in 2012.  
Côte d'Azur Sotheby's International Realty was awarded the exclusive opportunity to market each of the now 18 apartments, two of which have come back up for sale. 
The first is a €4.5 million bright white and contemporary three ensuite bedroom penthouse on the top floor of the Palais Maeterlinck. It measures 213sqm inside, plus a 21sqm terrace enclosed by the sophisticated signature columns of the building. 
The second apartment, currently listed at €3.9 million, is a generous 175sqm and two-bedroom property with a dedicated office space and impressive sea-facing terrace that measures almost 100sqm itself.  
Both have access to a secure garage and parking as well as the sumptuous, landscaped gardens and immense outdoor swimming pool. Add on top of that the views, which simply cannot be met or beaten in the area, and this setting is quite simply a dream.  
Click on the images below for a closer look…
Make sure you're never left out of the conversation.
Sign up for the Monaco Life newsletter, and follow us on Facebook,  Twitter,  Instagram and LinkedIn.  
Photos courtesy of Côte d'Azur Sotheby's International Realty