With less than a week to go until the world's highest profile yacht show kicks off in Port Hercule, Monaco Life takes a closer look at some of the most exciting vessels expected at MYS 2023.  
From Wednesday 27th to Saturday 30th September, the Monaco Yacht Show will be the main focus of the Principality.
It's easily one of the biggest international events of the year to be held here, with tens of thousands of visitors from all over the world flocking to Port Hercule to discover the biggest and best superyachts on the market for sale or charter, not to forget those still in development. 
Between the harbour and the waters just off the coast, more than 130 yachts of the highest calibre are expected to make an appearance. The fleet averages 50 metres in length, but there will be several examples nearly touching the 100-metre mark this year. Here are some of the most hotly-tipped vessels, as well as a mention of an interesting new category… 
PHOENIX 2
After the sale of the 95-metre Kismet earlier this month – a good sign going into one of the major meeting opportunities between buyers and brokers – Cecil Wright's leading yacht will now be the immense Phoenix 2 from Lürssen. It's a joint central agency venture, between Cecil Wright and Burgess, and this incredible 90-metre is being listed for €124,950,000.   
Delivered in 2010, but refitted in 2019, she can accommodate 14 guests across seven luxury cabins. The owner's suite features a private observation lounge and upper deck, while almost all guest cabins benefit from owner-quality finishings, from marble baths and showers to walk-in wardrobes.  
Other stop-you-in-your-tracks features include a gilt Steinway grand piano, an Art Déco-inspired "ballroom", a cinema, a winter garden with climate control, a beach club and an onboard beauty salon with hammam. That's not forgetting the seven-metre oval pool, two jacuzzis and two helipads.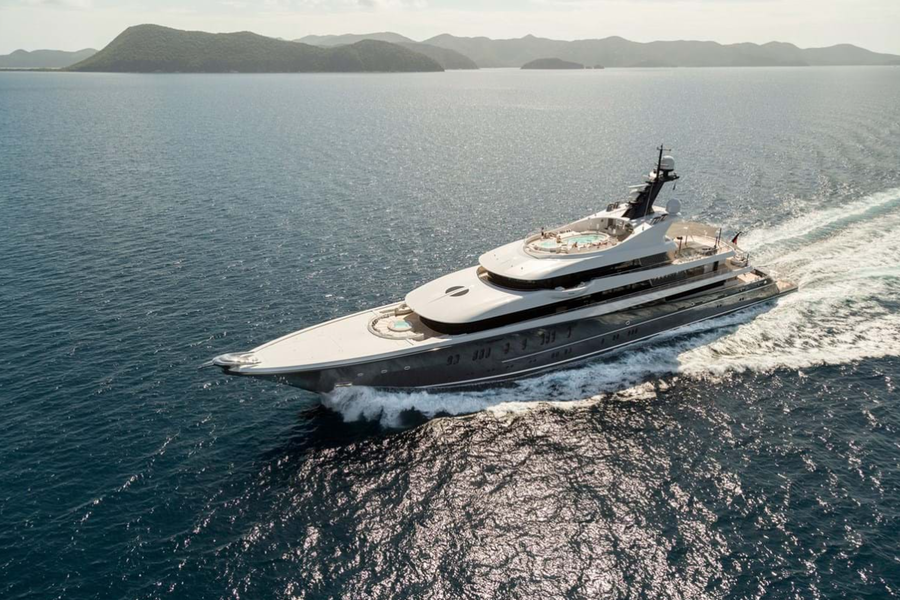 SYNTHESIS 66
This classic Feadship, which was built back in 1982, is actually the oldest yacht to feature at MYS this year. She measures just shy of 42 metres and is fresh from a considerable three-year build and renovation overseen by Boutsen Monaco at Monaco Marine. The yacht is now back into Lloyd's classification and pairs all the luxury amenities a 21st century yacht guest expects with original elements, such as the stunning woodwork.  
The new and revamped outdoor spaces reign on Synthesis 66, from the jacuzzi to the alfresco dining facilities and a generous bar. The yacht can comfortably accommodate up to 10 guests across five cabins.  
She is being listed by Northrop & Johnson for €23,000,000.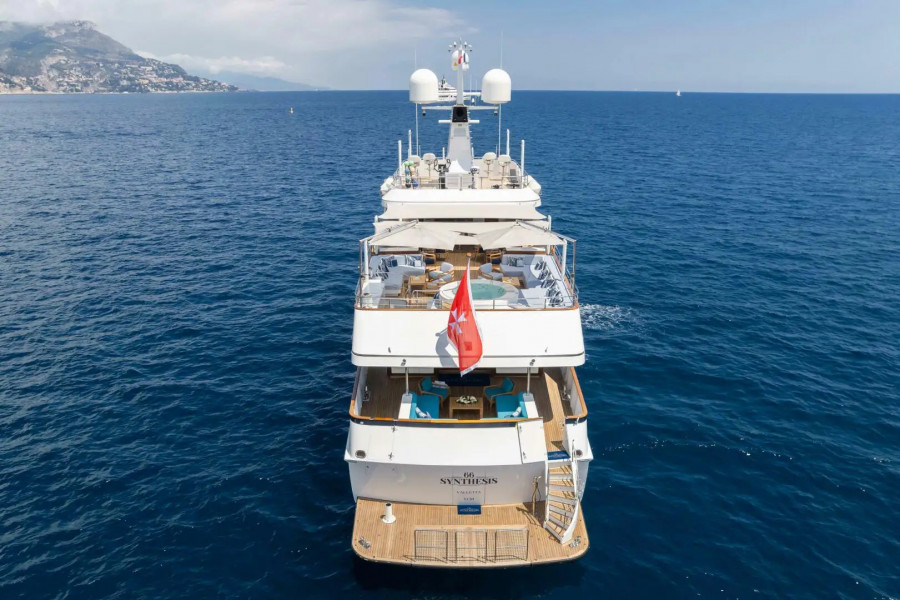 CARINTHIA VII
Next up is the biggest yacht confirmed to be appearing at MYS 2023 by our count: Carinthia VII. "Biggest" doesn't really cover it, though, as at 97 metres, she is absolutely vast. The vessel spans six decks, weighs over 3,600 gross tonnes and offers interior/exterior volume that not many other superyachts in the world can match.  
She can accommodate 14 guests across eight staterooms, which, thanks to the top-quality Tim Heywood design, are astounding in proportion. Among the many glamourous features of the vessel are a fully-equipped spa and two elegant bars, including one with a teppanyaki specialty. There's also a gym, a cinema, a club lounge for intimate get-togethers and a truly magnificent 12-metre pool.  
Charter rates for this epic yacht start at €1,400,000 per week with brokerage Frasers.  
CATAMARANS
Less of an individual listing and more of an extremely exciting group… Let's talk a bit about the new build catamarans shaking up the traditional yachting industry that will be showcased this year at MYS. 
There are five currently listed: 80 Sunreef Power Eco and Sunreef 80 Eco from Sunreef Yachts, Art Explorer and This Is It from the Italian Sea Group-Perini Navi, and BGM75 from Bluegame.  
The first three of these five fascinating vessels play well to the demands of the emerging category of eco-responsible owners, with innovative features such as built-in solar panels.
Sunreef 80 Eco, for example, is an all-electric, fully-autonomous craft "using revolutionary green tech for fuel-free cruising in total silence and luxury". Art Explorer, meanwhile, is the world's largest sailing catamaran, measuring an impressive 46.5 metres in length with a width of 17.30 metres and a 50-metre mast. A concept yacht, it will be at MYS on exhibit, a role that it suits well as the idea is that the vessel will host virtual exhibitions on its flybridge, while the central part will house a gallery for the inaugural "digital" exhibition 'Icons' on women in the Mediterranean.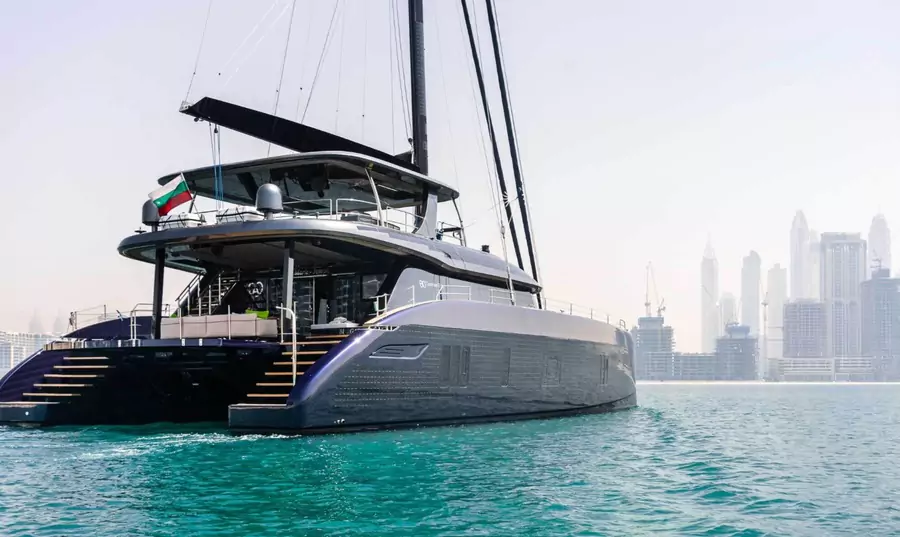 DESTINATION
And finally is one of only eight sailing yachts to feature at the show: Destination. According to Northrop & Johnson, which is listing Destination for €12,400,000, the yacht is a "tried and true world cruiser built for voyages from the tropics to the polar climates".  
"She is in immaculate condition courtesy of a meticulous maintenance schedule, generous budget and loving care from two owners and one main captain that has been with her for most of her life [Destination was built in 2003]," continues a spokesperson for the brokerage, which has an office in Monaco.  
Sleek on the outside and timeless on the inside, Destination has received careful updates over the years in terms of décor and upgrades to optimise the sailing and leisure experiences of guests.  
The 41-metre yacht can house up to eight guests in four beautifully-appointed cabins, each impeccably styled with natural materials, such as high-quality linens and silk.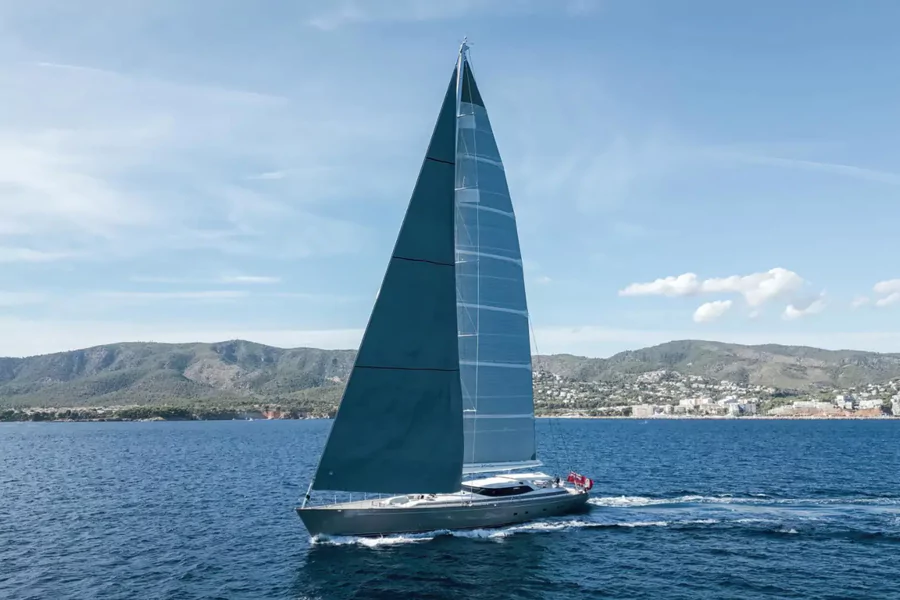 For the full list of yachts on sale or available for charter at MYS 2023, please click here.
Make sure you're never left out of the conversation. Sign up for the Monaco Life newsletter, and follow us on Facebook, Twitter, Instagram and LinkedIn.   
Main photo by Monaco Life