Mid-race rain added a sprinkle of chaos to a Monaco Grand Prix that was heading towards a processionary finish, but the top three remained unchanged with Max Verstappen taking the chequered flag.
Fernando Alonso's second place went unchallenged, but nor did he ever challenge the eventual race winner, who finished over 27 seconds ahead of the Aston Martin driver. Esteban Ocon came under attack as the rain struck, but unlike Carlos Sainz, kept it clean to seal his first podium of the season.
At Monaco, the risks are taken on Saturday so that they don't have to be taken on Sunday. Alonso said that he at times took "a little too much risk" on his qualifying lap, which earned him second place on the grid.
Ferrari the big losers in mid-race shower
He didn't make a move down the inside of Verstappen heading into Sainte-Dévote, whilst up and down the grid there was a lack of overtaking. Lewis Hamilton was the closest to making an important overtake but pulled out of his move on Sainz on the run out of turn one.
As is often the case at Monaco, all the action happened towards the back of the field. Last year's winner Sergio Perez was desperate to make up for his crash in Saturday's qualifying but found overtaking difficult. His impatience and frustration were the source of collisions with Kevin Magnussen and Lance Stroll.
The race looked set to be heading towards a processional conclusion, and whilst the top three ultimately remained unchanged, there was plenty of excitement and movement before the chequered flag.
The rain began around Mirabeau on lap 52, and by lap 55 the drivers needed to react with Esteban Ocon the first of the front-runners to come in under considerable pressure from Sainz, who was less than a second behind.
Sainz stayed out, but he aquaplaned heading downs towards Mirabeau Haute, losing time and crucially ceding a place to teammate Charles Leclerc. That meant that the Monégasque got the priority in a double-stacked Ferrari pitstop.
That allowed the home favourite to maintain his sixth position, but Sainz was consequently jumped by Pierre Gasly. Leclerc ultimately finished sixth, Sainz in a disappointing eighth, having at one point challenged for the podium.
Red Bull imperious once again
There were other accidents of varying degrees throughout the field. Logan Sargeant, Stroll, Magnussen, Perez and even race winner Verstappen all touched the walls, the latter ironically clipping the wall at a soaking-wet Piscine corner.
However, no damage was sustained and he went on to take the chequered flag, ahead of Alonso and Ocon. The Mercedes, which evidenced improvements in performance scored a good finish with Hamilton finishing fourth and George Russell fifth, despite a five-second penalty for reversing onto the track and into Perez.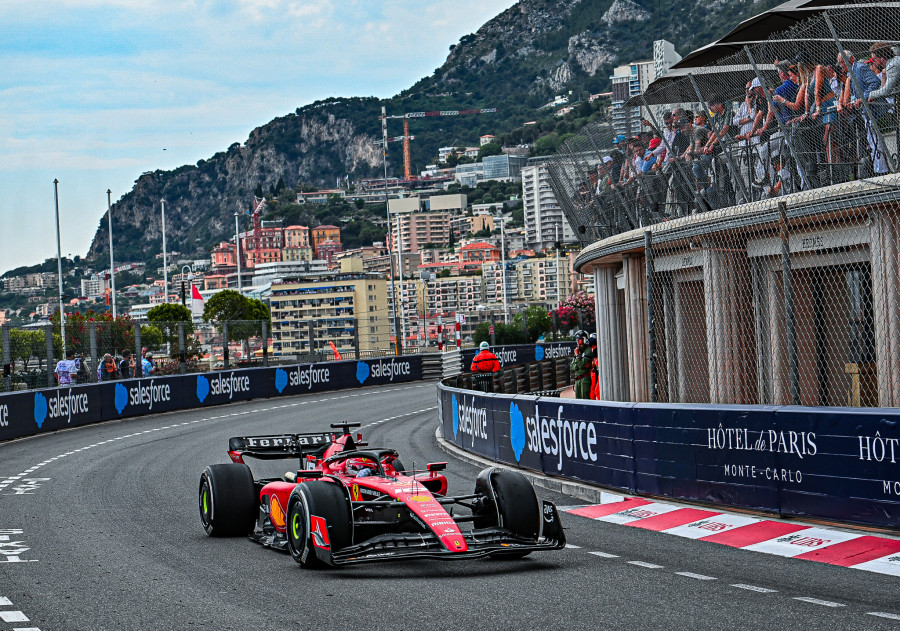 A sixth place will represent a disappointing weekend for Leclerc on home tarmac. A three-place grid penalty, received for being adjudged to have blocked Lando Norris during Saturday's qualifying, put pay to his chances of a podium, and he couldn't profit from the mid-race carnage to make his way through the field.
Charles Leclerc: "I couldn't do much more."
Last year, the Ferrari could rival the Red Bull, but this year, the latter are in a league of their own; they have won every race this season, with reigning champion Verstappen taking the chequered flag on Sunday, he has four wins and a championship lead of 39 points over his teammate Perez, who has won the other two.
"We have a very difficult car in traffic. I think our place was better than what we showed today, but this is how it is. I couldn't do much more. The car is very difficult to drive in the wet," said a despondent Leclerc, who is still yet to win at his home Grand Prix.
Red Bull will be looking to extend their streak at next weekend's Spanish Grand Prix, whilst Ferrari will be looking to return to form and earn their first podium since the Azerbaijan Grand Prix back in April.
Sign up for the Monaco Life newsletter. For the latest news, follow us on Facebook, Twitter, and Instagram.
Photo by ACM / Magoni / Caenen