The Fan Zone is back, giving the public a chance to get up close and personal with the stars of Formula One and have some fun. Here's what else is on the Monaco GP schedule. 
The last time that the Fan Zone, situated in Place d'Armes in La Condamine, was organised for the Monaco Grand Prix public was in 2019. Covid restrictions put a stop to the popular activity for a few years, but it is making its highly-anticipated return this year.
The Fan Zone is a great option for families or those who are unable to get a grandstand ticket. It features plenty of entertainment, including Red Bull E-Sport simulators, the Red Bull Pit Stop Challenge, 'Batak' reaction tests, a selfie booth, concerts on Saturday and Sunday after the last F1 sessions, and plenty of prizes that will be awarded from the Red Bull E-Sports stand.
The public can also follow the practice sessions, the qualifying sessions and all the races live on the giant screen.
Meet and greet today's racing stars
From Thursday to Saturday, drivers and managers will be on stage for Q&A sessions. Friday's line-up includes Valterri Bottas, Landon Norris and Fernando Alonso, as well Mercedes Team Principal Toto Wolf.
On Saturday, local favourite Charles Leclerc will appear alongside Ferrari teammate Carlos Sainz. Reigning World Champion Max Verstappen will be taking part just before at 10:30am. Other drivers include Lewis Hamilton and Daniel Ricciardo.
The fan zone is free to access, unlike the grandstands, which will be packed with hundreds of thousands of fans over the course of the weekend.
For the full Fan Zone live appearance schedule, check out the ACM website.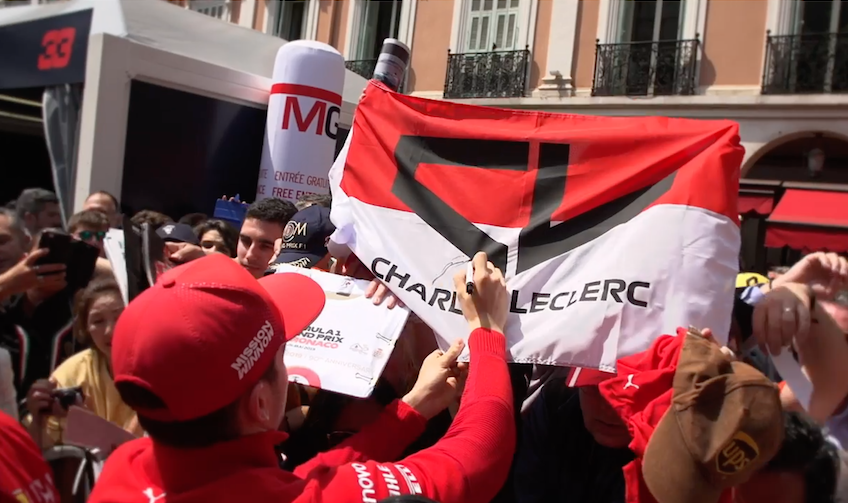 Monaco Grand Prix Schedule
The official Formula One schedule for the race weekend is as follows:
Friday 
Formula 3 qualifying – 09:05-09:45
Formula 2 qualifying – 11:10-11:50
Free practice 1 – 13:30-14:30
Porsche Mobil 1 Supercup qualifying – 15:30-16:00
Free practice 2 – 17:00-18:00
Saturday 
Formula 3 Race 1 – 11:30-12:15
Free practice 3 – 12:30-14:00
Qualifying – 16:00-17:00
Sunday 
Formula 3 Race 2 – 08:20-09:10
Formula 2 – 09:50-10:55
Porsche Mobil 1 Supercup – 12:05-12:40
Drivers' Parade – 13:00-13:30
Starting Grid Set up – 14:20-14:30
Monaco Grand Prix – 15:00 (78 laps/ two hours maximum race time)
The opening of the fan zone for the first time since 2019 represents the return of complete normality to what is a special edition of the Monaco Grand Prix, the 80th in its illustrious history.
Sign up for the Monaco Life newsletter. For the latest news, follow us on Facebook, Twitter, and Instagram.
SEE ALSO: 
Monaco Grand Prix fever: Tickets and packages still available
Photo source: F1 Experiences